The LOCK-DOWN Hitch Tightener
The RV LOCK-DOWN Hitch Tightener was designed to completely eliminate hitch noise, wobble, clanking, rattle, and jerking for tow hitches, bike racks, hitch racks, trailers, carriers, etc

Works on both 2″ and 1.25″ tow hitch receivers class I, II, III, or IV (1 2 3 or 4). Does not fit 2.5″ receivers. Industrial grade zinc coated hardware and powder coated plate is corrosion resistant and will not rust.

Works with almost all styles hitches, hitch platforms, motorcycle racks, hitch carriers, boxes, luggage racks or platforms. Perfect for many styles of tow vehicles including cars, trucks, vans, campers, RV's, SUV's, and minivans. Compatible with most hitch manufacturers.

Includes a powder coated stiffener plate and all yellow zinc-coated hardware necessary for installation (Industrial Grade U-bolt, two nuts, two split lock washers, and two flat washers)

Made In USA and comes with LIFETIME warranty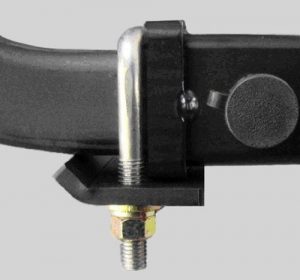 We have installed the RV lock-down hitch tightener onto our 45′ Rv and there is now absolutely no movement at all, so that's got to be better than your tow frame clanking and moving every time you pull away or slow down. It's such an improvement for such little money, it's a no brainer as far as we are concerned. Ask a pre-sales question
If you use a drop bar, then you willed two lock down hitches, one for the drop link and one for the towing frame. Please have a look at the video and you'll see how easy it is to install. We installed both of our's in less than 15 minutes. When fitting make sure the the U-bolts point downwards and also make sure they are nice and tight. It's probably best to check the tightness periodically.
You can order the RV LOCK-DOWN Hitch Tightener from our Amazon site or by clicking the product below:
If you would like to see us install this product have a look at the video below.

[WPCR_SHOW POSTID="ALL" NUM="5″ PAGINATE="1″ PERPAGE="5″ SHOWFORM="1″ HIDEREVIEWS="0″ HIDERESPONSE="0″ SNIPPET="" MORE="" HIDECUSTOM="0″ ]