WifiRanger wifi booster
Most of our RV friends already have a WifiRanger wifi booster fitted to their RV's and we just kept moaning about how terrible the Wifi signal was at ALL the campsites we stayed at.  Some camp sites were so bad that we may as well have been living in a cave!
Yet we always check with the site before booking and asked if they have wifi. Most of the time they all say yes. Obviously after arriving and setting up you discover that the only way to actually get wifi is to stand on the roof on a chair with one leg in the air (you get the picture!). You see most RV's have a metal or aluminum cage which make up the walls and as you may or may not know radio signals have a real problem with metal and walls. So what chance do you have? Not much!  So we obviously need a WifiRanger wifi booster.
So we went ahead after months of frustration and purchased a WiFiRanger. Well, what can I say…..we should have bought and installed this from day one. It makes our life on the road so much easier. We are now always in touch with the outside world and can now even watch internet TV because the signal we now receive is so strong.
So how does it work ?
Basically the WifiRanger wifi booster logs on to the strongest network using the external antena (which we have attached to the electric antenna lift ) and then broadcasts that signal to multiply wifi users inside your RV. The range is around 2 miles and the performance is exceptional. See our Youtube video below on how to install the WifiRanger.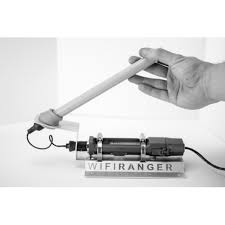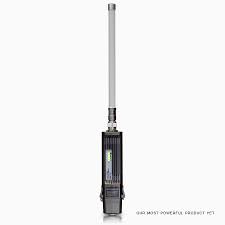 There are two versions available: The roof mounted model and the pole version (used if you have a batwing TV antenna or electric antenna lift) The only difference being how the product is fixed.
How to mount the Wifiranger
A complete network with indoor accessibility and outdoor range. The EliteAC is ready to be mounted to a ladder, crank-up batwing antenna, or flagpole. The system provides a secure, private network for all of your wireless computers and devices. The  GoAC also has several LAN ports for hardwiring computers and devices.
The EliteAC then brings in otherwise weak WiFi from Hotspots in the area to get your entire network online. The indoor GoAC is dedicated to providing the secure network and also allows for USB tethering a 3G/4G Aircard or MiFi device.
The GoAC which has Power Over Ethernet (POE) output. Avoid drilling a hole for this cable by routing it to the inside through a refrigerator vent, slide, or engine compartment.