"My resin is used up too quicky"
We have been massive fans of Spotless DI water system for 2 years now. We use it for the final rinse to keep our coach looking 100% and completely Spot free. The DI water system we have been using did seem to be the answer. You simply wash your RV and then the use the Spotless DI water system for the final rinse. There is absolutely no need for towel drying whatsoever. It's truly quite incredible. We can wash our 45′ RV in brilliant sunlight in around 1 hour,  then just sit back and watch it dry. No water spots at all. Ask a pre-sales question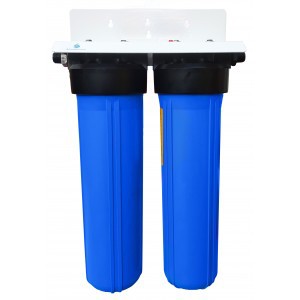 Spotless DI water system.
The problem is how fast you use up the resin and until now there has been no alternative other than to purchase the high-priced resin from supplier of the spotless water machine.  If you are only getting between 3-6 washes starts this start becoming really expensive.
So we set out to find a solution to this and I think we have found a win/win.
After much research, we have found a supplier that doesn't use the 10″ or 20″ internal cartridges but instead fills the whole of the blue housing with the DI resin.
This means that if you take the DIC 20 (as shown) as an example and add the new conversion kit, it will hold approx 35% more resin. Also we are reliably informed the seal at the top of the internal cartridges used on the spotless DI machines gets stressed. When the resin absorbs water and distorts the cartridges the rubber seal then start leaking, mixing the DI water with the incoming water hence giving the impression that the resin is depleted. When most of the time it isn't. The cartridges used by the DI spotless machines are actually not designed for DI resin they were designed to be used with charcoal filters.  Click here for prices and to order
See what other questions have been asked before purchasing?
---

So comparing the spotless units (with the blue cartridges) against the new Pro system using the same 200 ppm TDS , you can see that the new system produces 65% more DI water.
Check out the conversion video : 
---